New Exhibitions Open May 8
5/3/2021
New Exhibitions Open May 8
Exhibition Dates: May 8 - June 19, 2021
Public Gallery Hours: Saturday, 9 am – 5 pm and Thursday, 5 - 7 pm
We're excited to announce three new fresh exhibitions opening this week at Art Enables -- "Anti-Gravity," an all-Art Enables exhibition that celebrates the feeling of pushing against the forces that anchor us down, along with "Mystery Quilt" featuring visiting and Art Enables artists, and "Actually, I'm from the suburbs; I just say DC because it's easier" and installation by Aaron Maier-Carretero that explores the American dream in collaboration with five Art Enables artists.
ANTI-GRAVITY

Exhibition Dates: May 8 – August 28, 2021
With all due respect to gravity and its crucial properties, this all-Art Enables exhibition celebrates the feeling of pushing against the forces that anchor us down in favor of those that make us feel buoyant and free.
A handful of works included here present our common associations with a lack of gravity in outer space scenes: an astronaut floats above the surface of the moon in Sarah Swan's "Don't Jump Too High!" while Michael Knox's "Houston, We Have a Problem" depicts a comical attempt to feed a dog in zero gravity. Other works show more earthly sensations of weightlessness – floating in water or jumping into the air. Some feel more surreal - like Eileen Schofield's fruit bowl floating uncannily above a table – while still others express their exuberant forces through colorful abstract compositions. Fast cars, soaring birds, floating hot dogs, and cosmic hangs are in the air (literally) for our Spring/Summer studio gallery exhibition.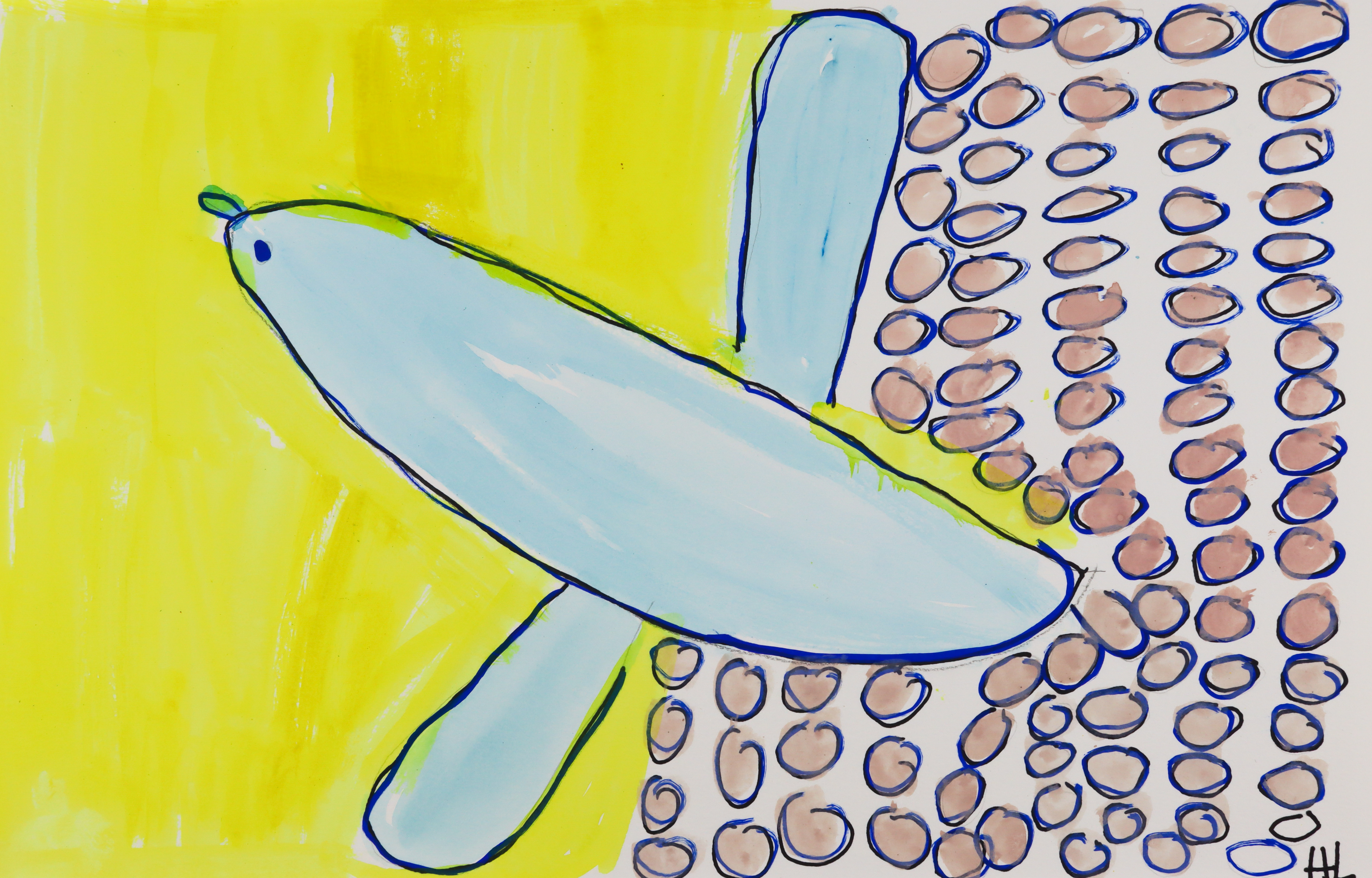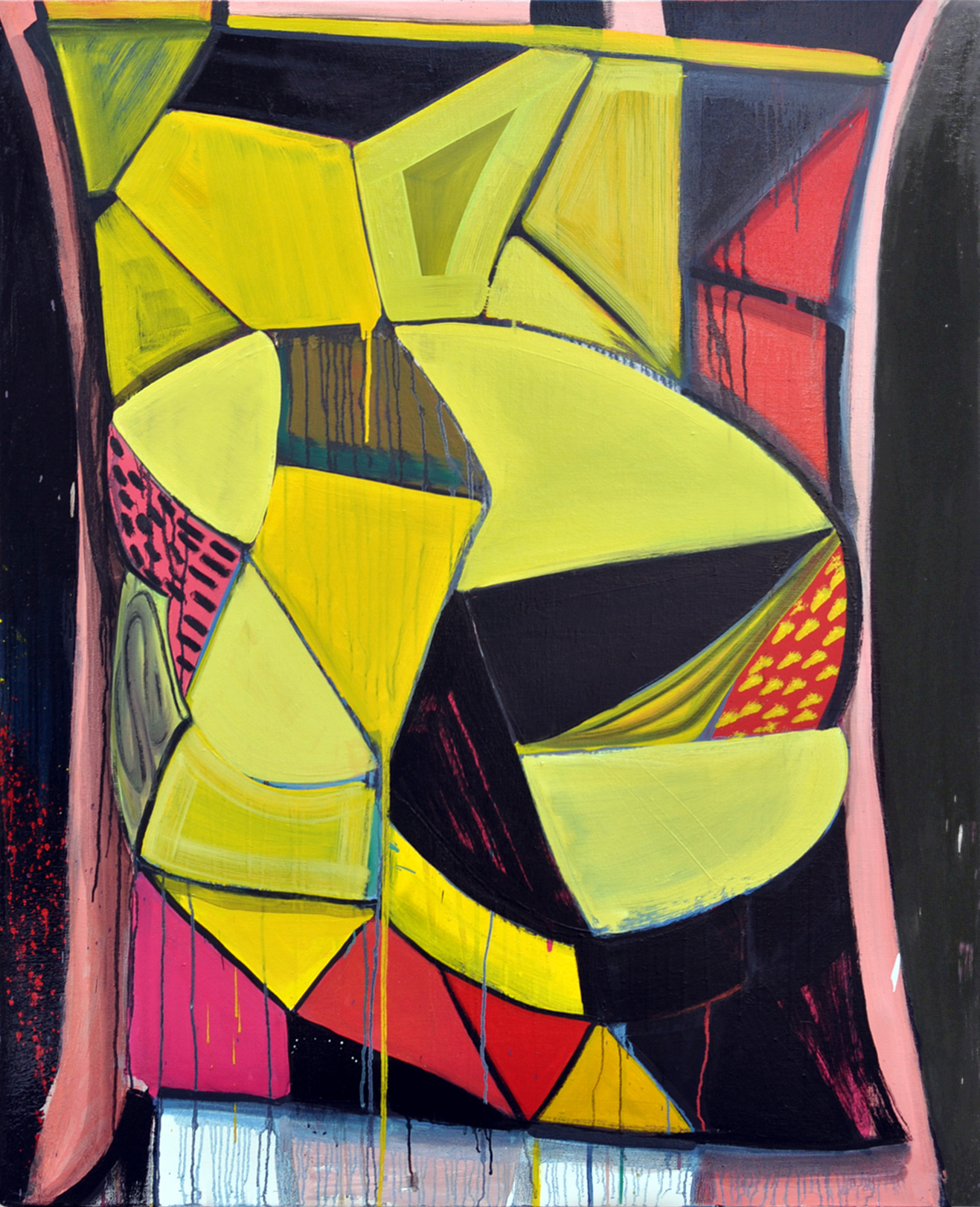 mystery quilt
Exhibition Dates: May 8 – June 19, 2021

In the world of quilting, a "mystery quilt" is a method of quilt making in which instructions and clues are given one by one over a period of time, without the quilter knowing what the final result will be. Undertaken as a group activity, the process can yield a variety of final designs, as each quilter interprets the instructions differently. While none of the works in this exhibition are literal quilts or even textiles, the artists employ familiar, quilt-like qualities in their own material languages of painting, drawing, and collage.
Colorful geometries are assembled, balanced, bound, pieced, clustered, and contained. Shapes are intimately joined by shared borders, each piece a necessary keystone supporting the rest. These congregations create varying degrees of order and chaos. In places, works mimic traditional quilts, smartly self-modulating their patterns in gridded structures. In others, shapes misbehave, are amorphous, overlapping, transparent, gelatinous, and shifting. They bend, swirl, drip, and break open in unexpected windows. These "quilts" seduce with dynamic abstraction, each collection of elements offering new systems of self-contained logic and playful ideologies.
Art Enables believes in a diverse artistic landscape in which artists both with and without disabilities exhibit side by side, and our gallery program reflects that belief. We're pleased to include work by eight artists with disabilities in this exhibition, including four Art Enables resident artists, and artists from Creative Growth (Oakland, CA), Make Studio (Baltimore, MD), and the Kennedy Center Maggie Daly Arts Cooperative (Bridgeport, CT).

Actually, I'm from the suburbs; I just say dc because it's easier.
Exhibition Dates: May 8 – June 19, 2021

In casual conversation, claiming a well-known city as your hometown rather than one of its suburbs can be more expedient than the granular truth. It can also imply the discomfort of being associated with a generic place, the notion of it being "easier to explain," almost an apology for a small lie. Aaron Maier-Carretero is interested in these subtleties. His experience growing up was shaped around the idea that the "American dream" was built in the suburbs. To hold on to that dream, one had to embrace both its pleasantries and a more insidious culture shaped by whiteness and patriarchy: protecting and reinforcing racism and gender roles, hiding violence, and erasing or tokenizing other cultures. The private spaces of suburban homes can shelter familial love and the dysfunction and violence of both individual families and society at large. In his work, moments of tenderness co-exist with tension and unease. In "Waltzing with Bears," a father sings sweetly to his young son while holding him in his arms in the darkness of a child's bedroom. In sharp contrast, the bright light from the hallway illuminates the bedroom door, where two indentations have been punched into its surface. For Maier-Carretero, these complexities are inherently and compellingly human. The latent and overt expressions of value in the places we live – both positive and negative – form stories that transcend the suburban landscape and speak to a broader American experience.
This installation invites viewers to explore a family home formed from a collage of physical objects and illustrated elements by Maier-Carretero and Art Enables resident artists Michael Haynes, Paul Lewis, Raymond Lewis, Max Poznerzon, and Nonja Tiller. Actual pieces of furniture co-exist with household items drawn on paper or directly on the flat surfaces of the floor and walls. Maier-Carretero's paintings on canvas present multifaceted scenes of domestic life along with works on paper by Art Enables artists that stand in for family photos and other household ephemera. Spaces and divisions are concrete and illusory – indicated alternately by actual walls, suggestions rendered in graphite lines, and even our own memories and expectations.