Continuing to Create—and Thereby Document—These Times
6/3/2020
Continuing to Create—and Thereby Document—These Times
Dear Friends,
I, along with the Board and staff of Art Enables, feel it important to pause and recognize this critical moment in our nation.
Like many of you, I am heartbroken and outraged by the ongoing violence in this country against people of color and the black community. The senseless murders of George Floyd, Ahmaud Arbery, Breonna Taylor, and far, far too many others are a stain on our country and reflect the unacceptable realities that have plagued African-Americans for over 400 years. Art Enables stands in solidarity with those peacefully fighting the systems of racism that have allowed these and other violent acts to continue.
And like many of you, I am seeking out new and better ways for myself, along with my Art Enables colleagues, to recognize and confront the realities of racism in our own lives and communities. One way Art Enables is doing this is by supporting our artists who have been impacted personally by racism and current events by continuing to amplify their voices and their work.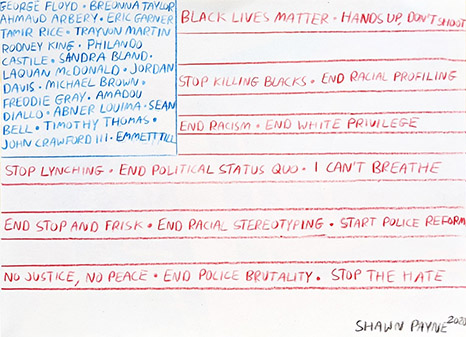 As some of you may have seen, this week we posted a powerful piece on police brutality by staff member and resident artist, Toni Lane. I encourage you to view and, if possible, purchase work by our artists, to support and elevate the unique perspectives of black artists, and to share and use the work to spark honest and meaningful conversations with your friends, family, and social networks about issues of racism and inequality.
It has been said that artists are the gatekeepers of truth, and the artists in our studio are no different. They continue to create—and thereby document—these times. The powerful image you see accompanying this statement is an example of that. The piece, entitled "The Flag," is by resident artist Shawn Payne. We will continue sharing his and other artist's work and voices with you through our social media channels in the days and weeks to come.
On behalf of our artists, our staff, and our Board, thank you for being part of the Art Enables community, and thank you to all those who are standing up against injustice and racism.

Tony Brunswick
Executive Director