May 8 - June 19, 2021
In the world of quilting, a "mystery quilt" is a method of quilt making in which instructions and clues are given one by one over a period of time, without the quilter knowing what the final result will be. Undertaken as a group activity, the process can yield a variety of final designs, as each quilter interprets the instructions differently. While none of the works in this exhibition are literal quilts or even textiles, the artists employ familiar, quilt-like qualities in their own material languages of painting, drawing and collage.
In these works, colorful geometries are assembled, balanced, bound, pieced, clustered, and contained. Shapes are intimately joined by shared borders, each piece a necessary keystone supporting the rest. These congregations create varying degrees of order and chaos. In places, works mimic traditional quilts, smartly self-modulating their patterns in gridded structures. In others, shapes misbehave, are amorphous, overlapping, transparent, gelatinous and shifting. They bend, swirl, drip, and break open in unexpected windows. These "quilts" seduce with dynamic abstraction, each collection of elements offering new systems of self-contained logic and playful ideologies.
Art Enables believes in a diverse artistic landscape in which artists both with and without disabilities exhibit side by side, and our gallery program reflects that belief. We're pleased to include work by eight artists with disabilities in this exhibition, including four Art Enables resident artists, and artists from Creative Growth (Oakland, CA), Make Studio (Baltimore, MD), and the Kennedy Center Maggie Daly Arts Cooperative (Bridgeport, CT).
"Mystery Quilt" artists: Joseph Alef, Aziza Claudia Gibson-Hunter, Molly Hauser, Charles Philippe Jean-Pierre, Mariah Anne Johnson, Helen Lewis, Zach Manuel, Craig Moran, Marc Pekala, Jamila Rahimi, Lauren Rice, Kate Sable, Chris Schallhorn, Eileen Schofield, and Margie Smeller
Click images below to expand image and/or purchase work. Visiting Artist artwork may not be available for expanded viewing post-exhibition.
Public gallery hours: Thursdays, 5 p.m. - 7 p.m. and Saturdays, 9 a.m. - 5 p.m.
Jamila Rahimi
Night in the Garden, 2017
marker and watercolor on paper
Mariah Anne Johnson
Silver Lake Walks Night & Day (fragment), 2021
watercolor and colored pencil on paper with copper eyelets and wire
dimensions variable; 84 x 78 in this arrangement
Joseph Alef
Untitled (JA 98), 2016
acrylic on paper
22 x 30 in
$550.00
Creative Growth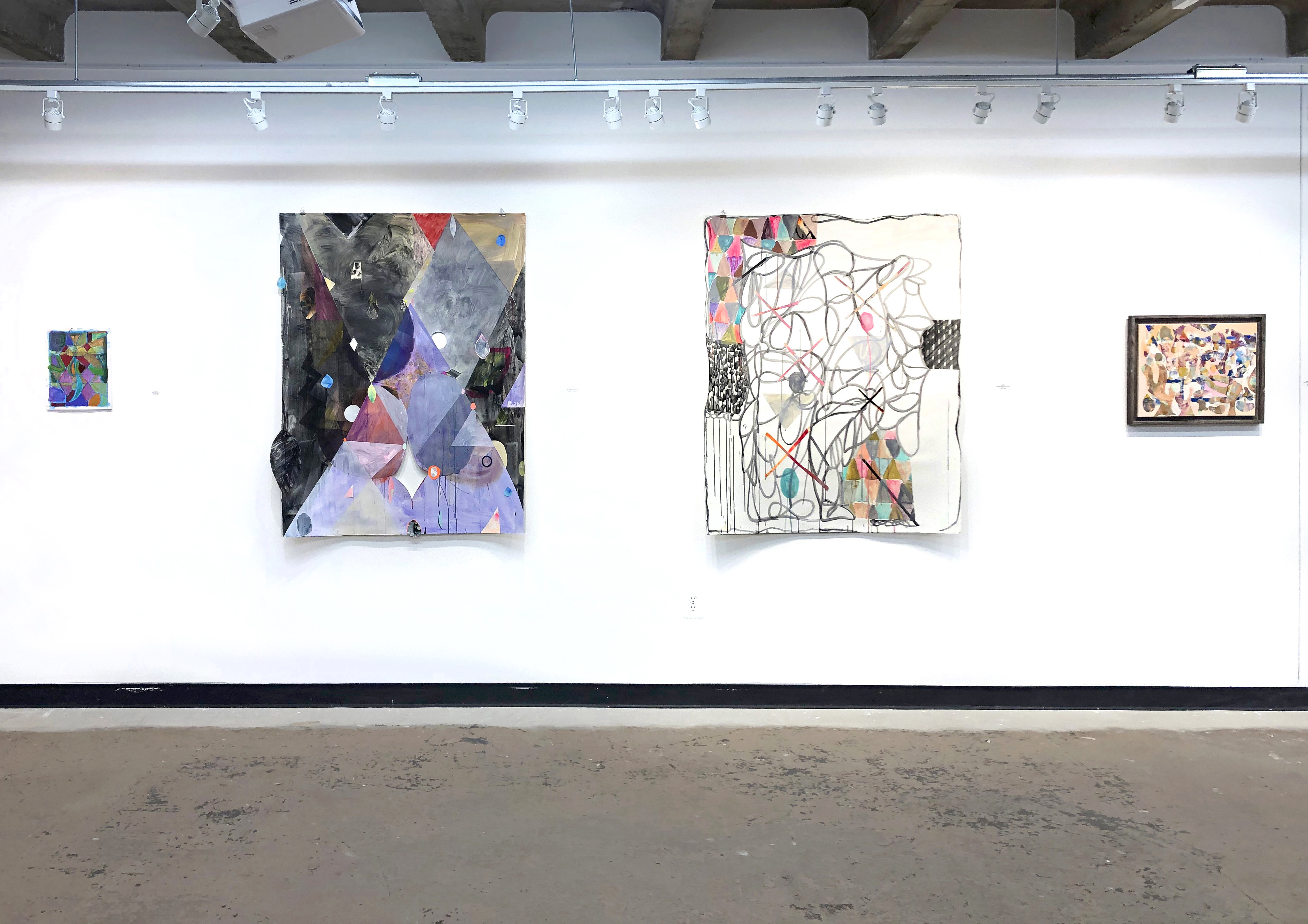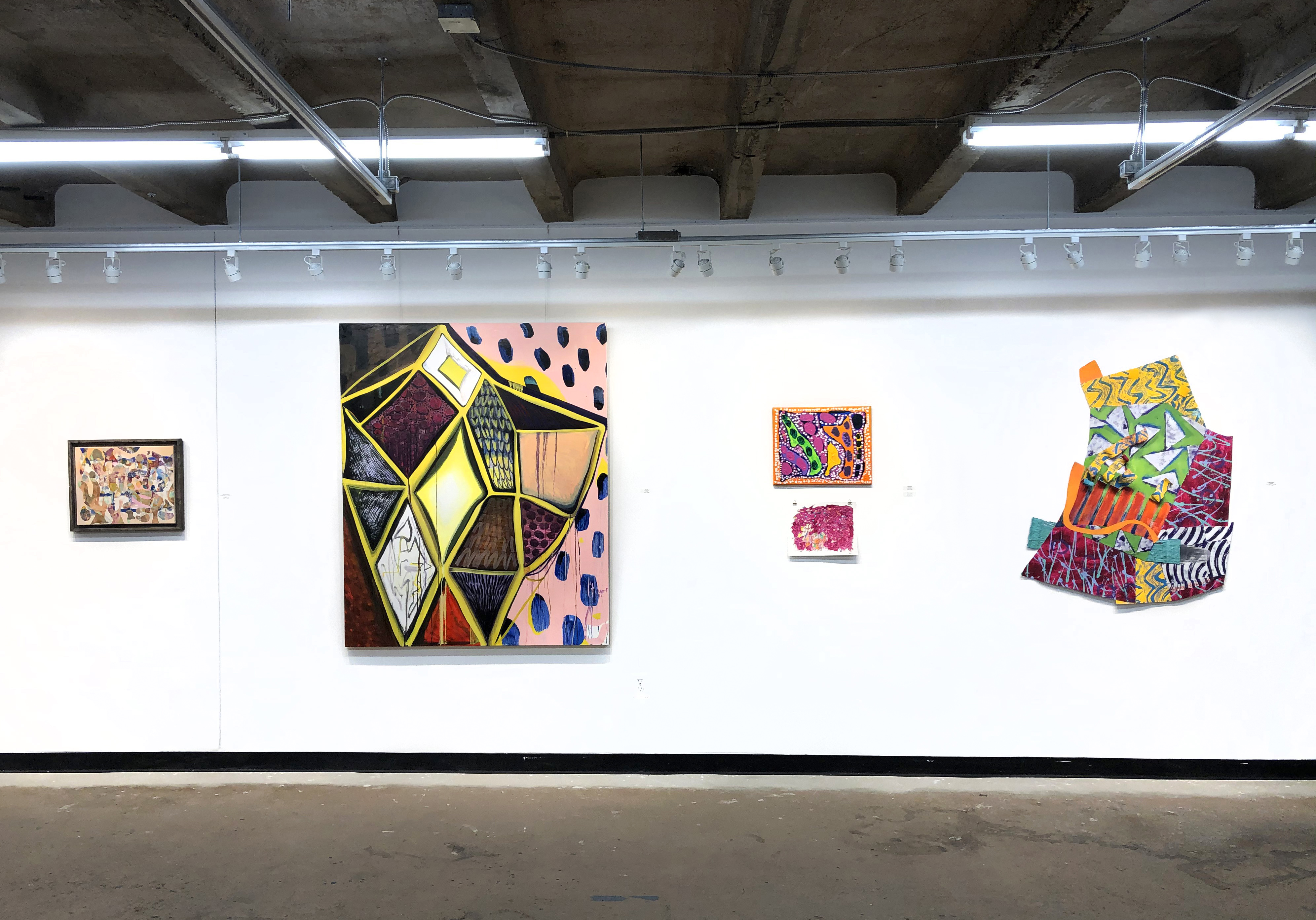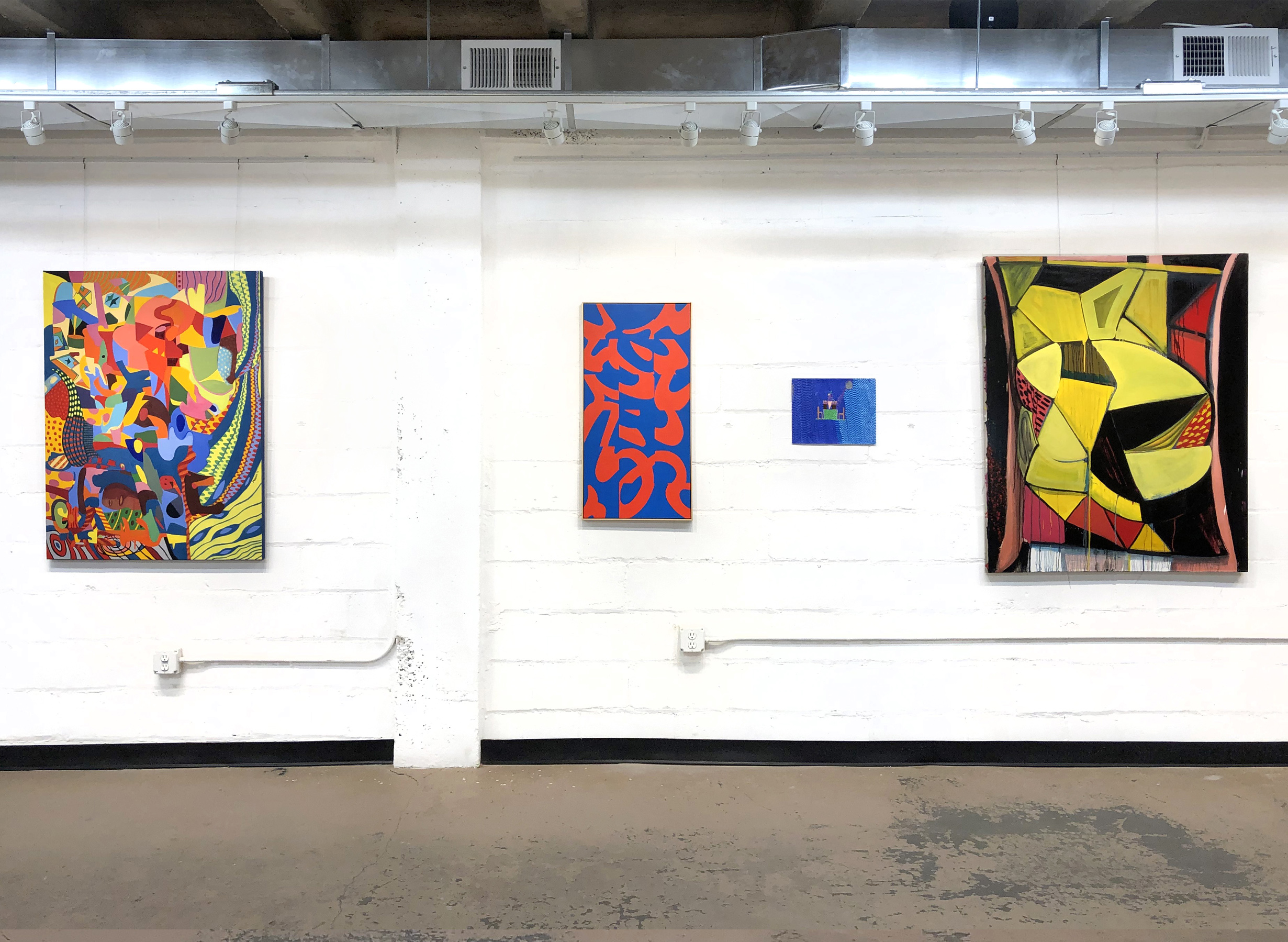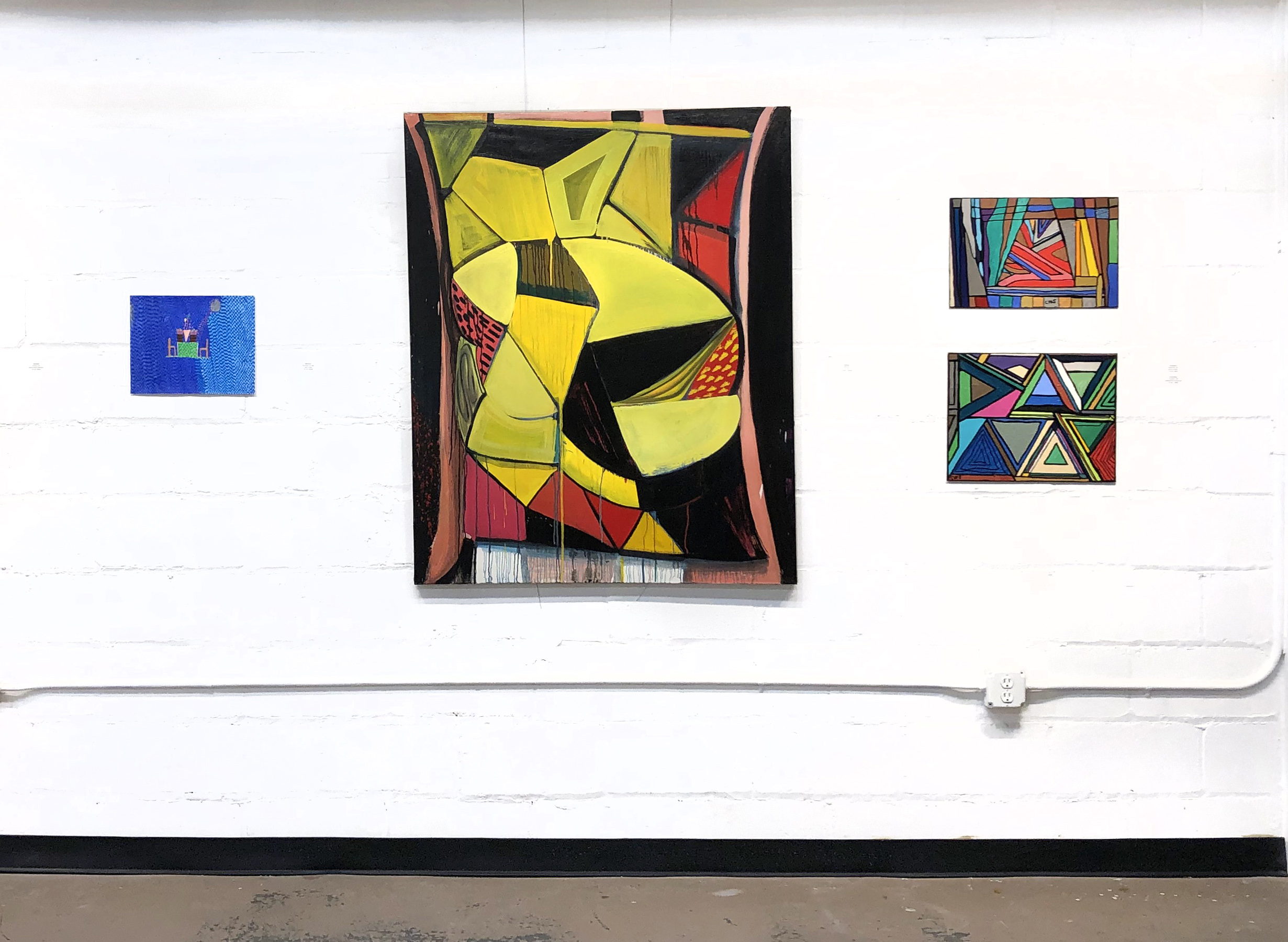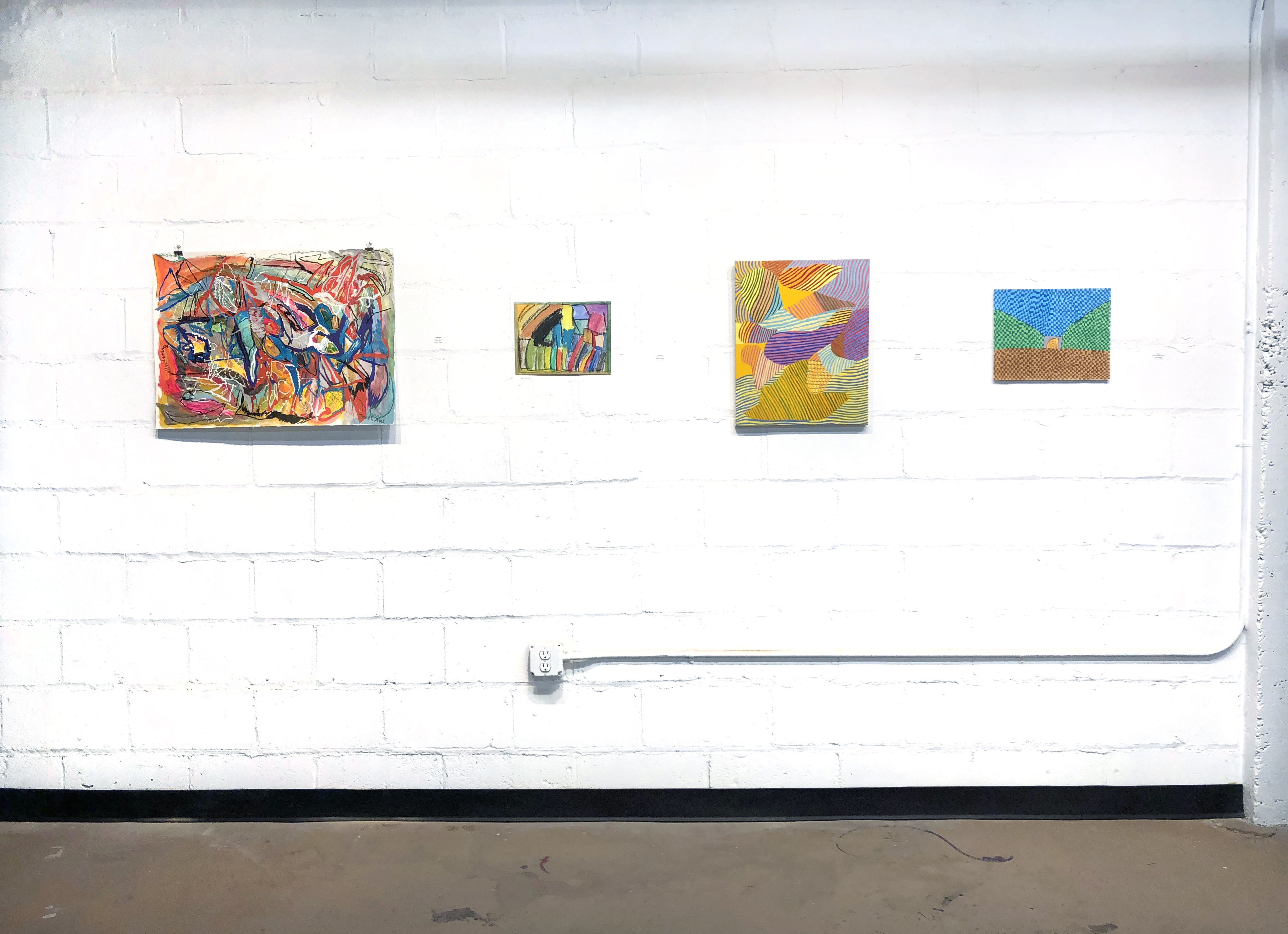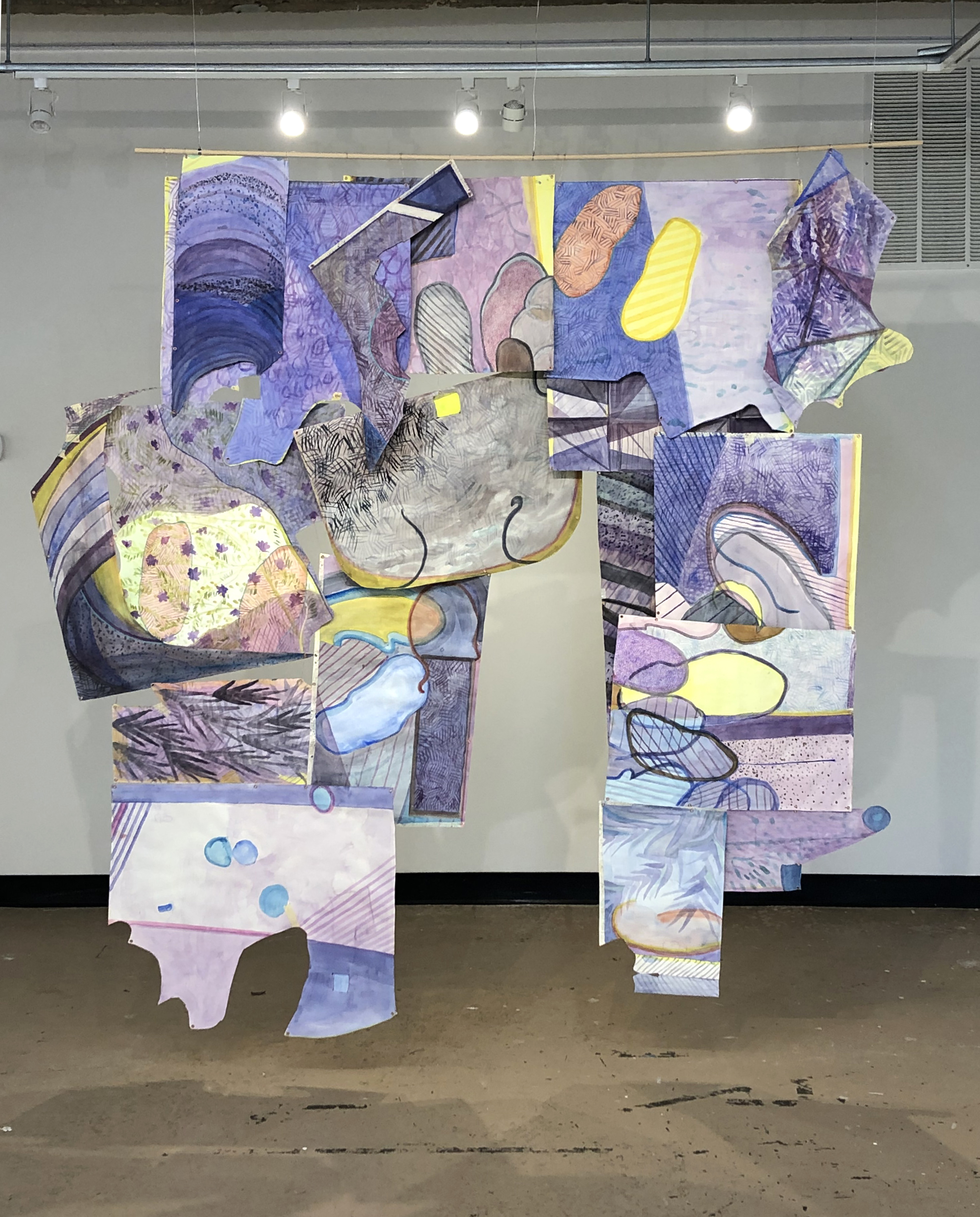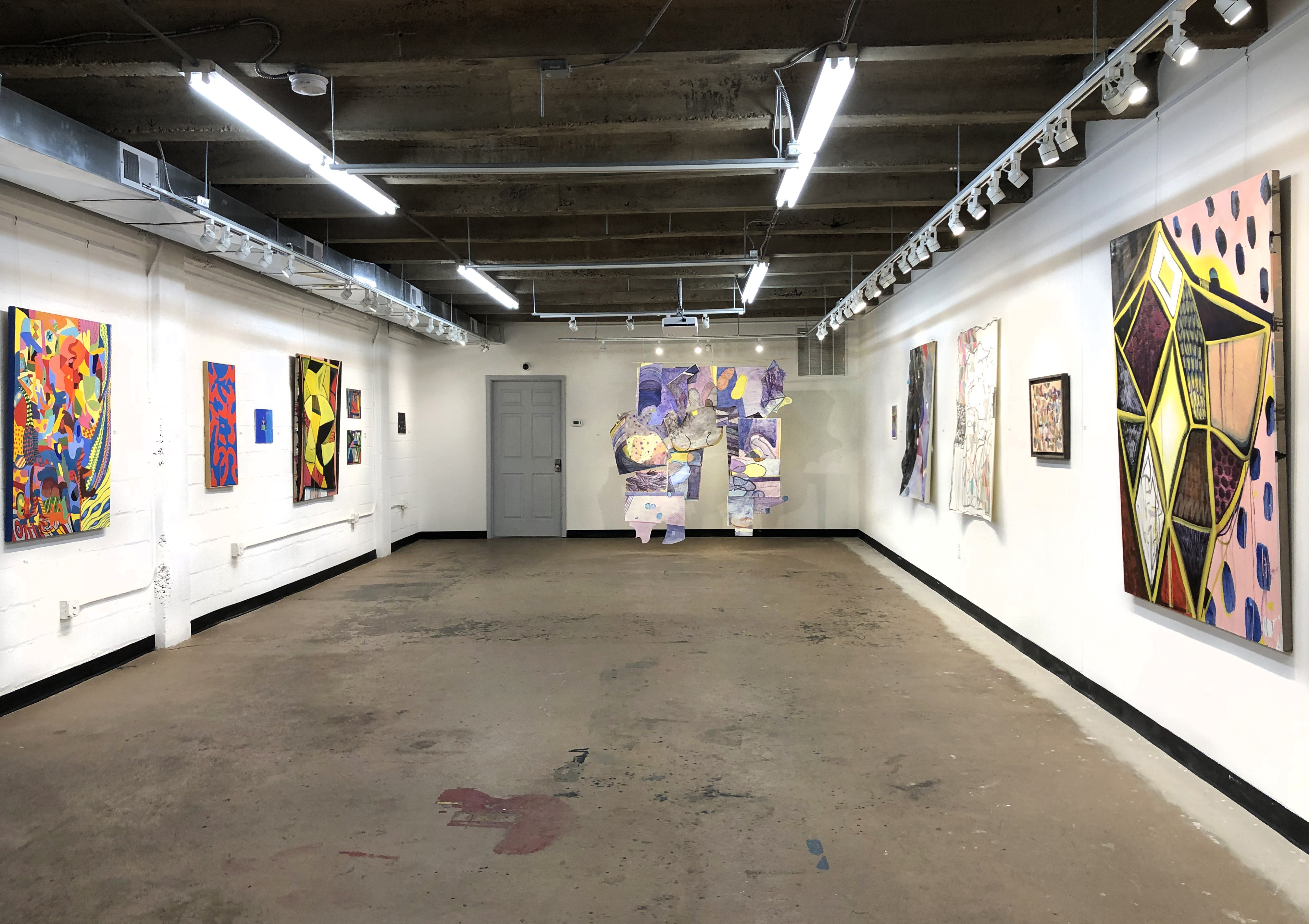 ARTIST BIOS
Joseph Alef Born 1981, Berkeley, California. Joseph Alef makes active paintings that radiate with energy. Blending an impressive array of colors with gestural and drip elements, Alef has created his own expressive visual language. Often beginning with delicate fields of color, Alef then integrates linear and distinct graphic elements that form sculptural effects. Alef has been a studio artist at Creative Growth since 2001, and devotes most of his time to painting, though he also has explored ceramics as well. Like his paintings, the abstract ceramic tablets he builds are deeply layered with organic abstractions and vibrant colors. Joseph has practiced at Creative Growth from 2001–2008 and 2013–present.
Aziza Claudia Gibson-Hunter was born in Philadelphia, Pennsylvania. She received her BS from Temple University, and her MFA in printmaking from Howard University. Gibson-Hunter has exhibited in the US and abroad. Her work is included the permanent collections of the Liberian embassy, ISCI, the District of Columbia as well as the Montgomery County Works on Paper collection. She has had her work featured in the publications Black Renaissance Noir, and Callaloo Arts. Ms. Gibson-Hunter 's residencies have included Haystack School of Art, the Vermont Studio Center, and Pyramid Atlantic. Her fellowships include the distinguished DC Commission of the Arts and Humanities Individual Fellowship in 2006, 2016, 2018, and 2020. In 2019, she was a Denbo Fellow at Pyramid Atlantic. Ms. Gibson-Hunter has a studio in Washington, DC.
Molly Hauser is an artist with the Maggie Daly Arts Cooperative (MDAC) in Connecticut, which is an initiative through the Kennedy Center, Inc. She has been practicing art at MDAC since July of 2014. Molly creates bright and colorful worlds in her art, usually using markers. Her meticulous style of drawing involves weaving together a scene or landscape through small squares of color. Molly has had three solo shows and has had her art displayed at the Kershner Art Gallery (Fairfield, CT) numerous times along with exhibitions at various Town Halls and the Kennedy Art Gala in Fairfield County, CT. Besides visual arts, Molly is accomplished when it comes to creative writing, theater, and yoga as well. She will often write stories to accompany her art pieces, and create a magical narrative to make her inner worlds come to life. Molly brings a sparkle wherever he goes, and has really made her mark the local arts community.
Charles Philippe Jean-Pierre is a Haitian American artist groomed on Chicago's south side. He is currently an adjunct professor at American University in Fine Arts. As U.S. State Department Art in Embassies Artist, his work is now in the permanent collection of the U.S. Embassy in Cotonou, Benin West Africa. He was a President Obama White House invitee for the role of art education in promoting national youth justice. Jean Pierre has participated in two Asian Pacific American Smithsonian exhibitions and has exhibited with the International Monetary Fund headquarters in Washington DC. His work has been highlighted by numerous media outlets including; The Washington Post, Ebony Magazine, Black Enterprise, NHK Japan, The Village Voice, BET, NBC, Netflix and FOX. Jean-Pierre has guest lectured at Stanford University regarding a positive vision of Haiti through the Mamelodi Project. He was named top five art educators by the District of Columbia and served as a creative communication instructor for Alvin Ailey Chicago. Jean-Pierre is the former National Arts Director for the Young and Powerful group and served on the board of the Diaspora of African Woman Network (DAWN). Jean Pierre holds a Masters of Arts from Howard University and has created public art murals in South Africa, Panama, New York, Chicago, Washington, Istanbul, Montreal, Port-au-Prince, London, and Paris.
Mariah Anne Johnson explores the physical realities of bodily experience and art making in the landscape through drawing, movement, and site-specific installation. She is a native of Little Rock, Arkansas, where she studied ballet and attended art classes at the Arkansas Arts Center. She focused on art and literature at Rice University and earned her MFA from the University of Illinois in 2006. Mariah's paintings and installations have been exhibited in solo and group shows around the country, from Los Angeles to New York, Houston, Chicago, and Washington, D.C., where she lived and worked from 2009 until 2018. From 2011-2018 Mariah was a lecturer in painting and drawing at The George Washington University. She has performed with Hayley Cutler's darlingdance company and undertaken several international artist residencies, including the Riddergade AIR Fellowship at Viborg Kunsthal in Denmark. In 2017-2018, she worked on the monumental artwork Backyard Sublime: Meadow Project, a year-long, site-specific project in her Capitol Hill backyard incorporating gardening, drawing, writing, movement, and social media. After concluding this project, she relocated to Los Angeles, where she continues to find the adventure in art making.
Helen Lewis has been a resident artist at Art Enables since 2017. Her artwork is both calm and jubilant, much like her spirit. She began her artistic journey as a fiber artist, but in the studio, her medium of choice is watercolor. Often using flowers as her inspiration, her work is continuously bright, colorful, and energetic.

Zach Manuel joined Make Studio in 2012. He brought with him a strong interest in comics, animation, and science fiction. A man with many goals in fine and digital art, Zach has diligently expanded his artistic repertoire beyond colored pencils and markers (which he still uses with great skill today), to become skilled in various media and techniques. He now draws his inspiration from animation as well as real life, and often weaves reflections about art-making, dreams, emotional states, and his personal experiences of autism into his artwork. Zach is a graduate of the Harbor School in Baltimore, MD.
Craig Moran was born in Washington, DC, and received his Bachelor of Arts degree in English and Studio Art at the University of Virginia (UVA). He received a fifth-year arts fellowship at UVA, and completed a Post-Baccalaureate in Painting and Drawing at the School of Art Institute of Chicago. Mr. Moran has lived in San Francisco and Chicago, as well as various parts of Virginia. He currently resides in Washington, DC and has a studio in Takoma Park.

Marc Pekala is a Washington, D.C. based visual artist. He holds a B.A. in Graphic Design from The American University, Washington, D.C. and attended the Yale University Program for Graphic Design in Brissago, Switzerland. Marc has worked as a graphic designer and art director for 25 years in Seattle and Washington, D.C. His art has been exhibited in Washington, Washington D.C., Virginia, and New York.
Jamila Rahimi has been with Art Enables since 2006, and has shown work in more than 50 exhibitions. Her work shows off the diversity of her interests, showcasing her love for travel, baseball, and animals. Jamila brings her vibrant watercolors to life through densely constructed forms and an exceptionally patient and focused approach. She is incredibly thoughtful and always willing to sit down to chat, talk about her family, and share her excitement about upcoming events and activities.
Lauren Rice is a visual artist based in Richmond, VA. She has exhibited her work in solo, collaborative and group exhibitions at venues such as Cuchifritos Gallery and Project Space (NYC), Vox Populi (Philadelphia), Tiger Strikes Asteroid (NYC), Neon Heater (Findlay, OH), ICA Baltimore (Baltimore), The Virginia Museum of Contemporary Art (Virginia Beach), Transformer (Washington, DC) and Spring Break Art Show (NYC), among many others. Rice has been a Fellowship Artist at The Kala Art Institute in Berkeley, CA and an artist-in-residence at The Luminary in St. Louis, MO. Her work has been published in New American Paintings, Maake Magazine and VAST Magazine. Although rooted in painting, Rice's recent work takes the form of mixed media collage on paper and intersects with the worlds of drawing and sculpture. She uses both additive and subtractive methods of mark-making and explores how the crumple, the fold, the curl, the cut, the erased and the cover up, can be a means to visually compress, distort and rearrange information.
Kate Sable's paintings of curvilinear and gridded abstract forms are an ongoing investigation between analytical and intuitive use of color, line, gesture, and shape. Her practice directly engages personal metaphor and inquiry, while remaining strongly grounded in the painting process. Recent exhibitions include a solo show at Pazo Fine Art, Kensington, MD; DREAM JOURNAL, a three person show curated by Alex Ebstein at Goucher College, and a two-person exhibition at Equilateral Gallwry (Los Angeles, California) curated by Sam Scharf. Recent group exhibitions include Slowly and a Soft Speaker at SHOEBOX SPACE in New York, We Go Fast curated by Ryan Travis Christian at Left Field Gallery (Los Osos, CA), I Like Your Work Podcast's juried exhibition Be.Long at Dutoit Gallery (Dayton, OH), and Hen House's All Female Tiny Show (Washington, DC). Her work is included in the Spring Issue 17 of ArtMaze Magazine and was also featured in the curatorial project Air in Space with the release Blurring All the Lines, and also the publication Friend of the Artist (Volume 8). She was recently included in the curated drop HOT PAPER X CHARLIE ROBERTS, for GIFC Worldwide, and was a guest on I Like Your Work Podcast, interviewed by Erika Hess. Reviews include The Washington Post, Washington City Paper, Two Coats of Paint, among others. Originally from Virginia, Sable earned a BFA from Virginia Tech and MFA from American University in Washington, DC. She lives and works just outside of Washington, DC in Reston, VA.
Chris Schallhorn is a fan of quilting and he creates the majority of his artwork by reinterpreting geometric designs that he sees in the patterns. Every step that Chris takes is planned and measured ahead of time. This process makes his work especially popular with those mathematically-minded people who enjoy the repetition in his art. Chris is also a jokester at heart and enjoys having fun with his fellow artists.
Eileen Schofield has been a resident artist at Art Enables for over a decade, exhibiting her work at Art Enables and other galleries and spaces around the country. Using markers, her medium of choice for her vibrant drawings, Eileen is able to achieve a level of density and color saturation that lends itself to her bold, joyful work. Eileen is a DC resident. In addition to her prolific practice at Art Enables, she also works steadily to help fulfill the artistic needs of L'Arche Greater Washington, DC.
Margie Smeller has honed her craft over many years working on commissions at home, exhibiting her work in solo shows and as part of a collective with the Artists' Gallery in Frederick, MD, as well as previously via working with the Scott Key Center (Frederick, MD) - and Art Enables! Margie loves writing poetry, often in tandem with her visual artwork. She draws inspiration from a vast array of sources, including pop film and National Geographic. She is also a talented athlete, competing in varied sports including skiing and kayaking. Margie is an artist at Make Studio in Baltimore, MD and lives in Mount Airy, MD.