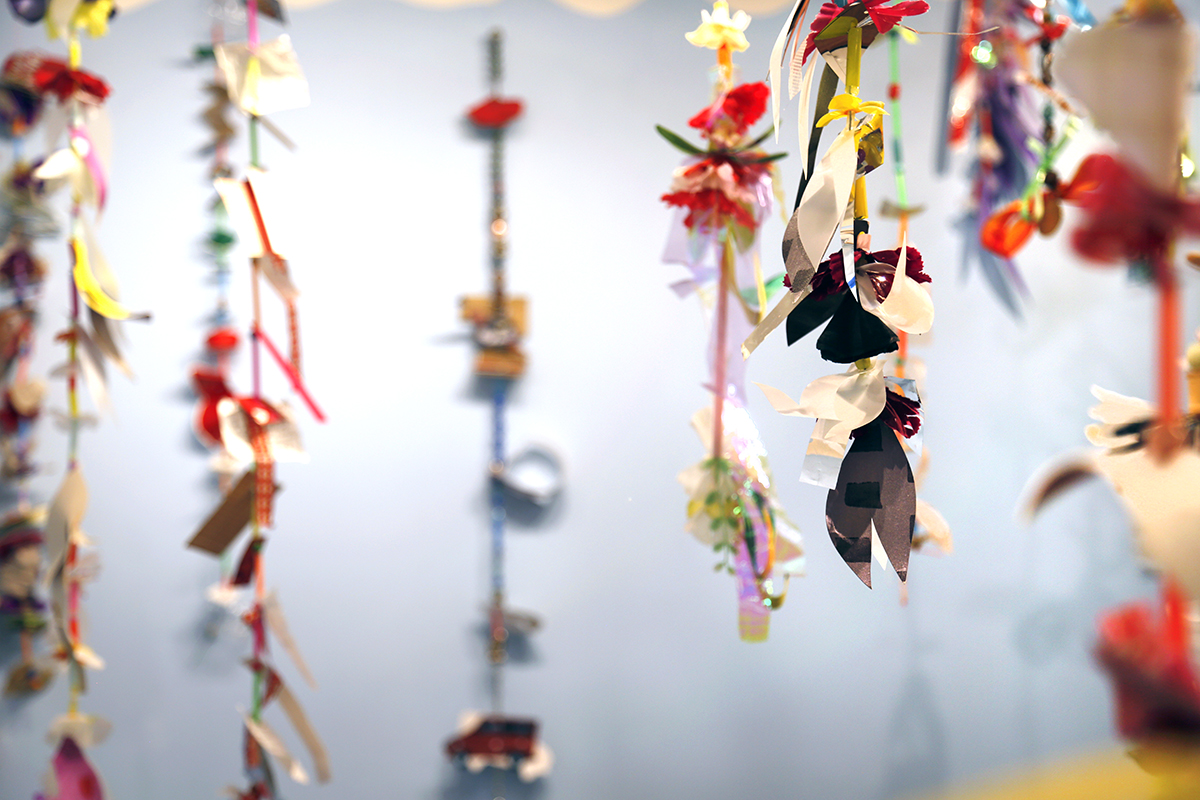 April 16 - August 20, 2022
"CONSUMER" considers not only what we desire, buy, and consume as human beings but also the resulting accumulation and waste. One gallery wall is adorned with decorative garlands made by Art Enables resident artists and visiting artist and collaborator Amy Boone-McCreesh. On inspection, the viewer will find the garlands are composed of recycled scraps and remnants - detritus the artists collected: plastic bags, receipts, scraps of fabric, bubble wrap, old drawings, paper cups and plates, and a variety of food and drink packaging. The strands are attractive in their abundance, despite being composed of what is essentially trash. In the color, shine, texture, and variety of the garlands, we see the seductiveness of their materiality, while the blue hue of the wall behind them is a reminder of water, and how these materials make their way into our rivers and oceans.
These fragments are depicted intact on the opposite wall: drawings and paintings highlight different objects of consumerism, focusing on the allure of what we consume. Shoes, bottles of perfume, cans of soda, ice cream sundaes, cheeseburgers, popsicles, bowls of fruit and candy: all of these things in themselves can conjure pleasant feelings of desire, comfort, nostalgia, and happiness. Yet, despite our attraction, the byproducts of merchandise – waste from its production, transportation, and packaging – is also present. An extended cluster of 2D works grows denser as one walks along the wall, reminding us of material accumulation in our daily lives and ever-growing landfills.
Near this cluster of works is a set of three shelves offering food and drink boxes, bottles, and cans lined up neatly as they might be in a store. The artists have painted and drawn over existing packaging. Some works are more organic-looking variations of actual branding, and some are products the artists invented. They're presented at the stage in their journey where we, as consumers, might come into contact with them. Colors, images, and words vie for our attention with promises of satisfaction. Because we so often answer their call – out of need, desire, or pure convenience – the "CONSUMER" artists hope you will consider the life cycle of these materials. As Art Enables artist Jay Bird puts it, "I wish more people would pay attention to what waste does. We have to find a way to slow down."
Participating Artists: Maurice Barnes, Jay Bird, Duane Blacksheare-Staton, Mara Clawson, Marti Clark, Jacqueline Coleman, Robert Corcoran, Debora Green, Michael Haynes, Charmaine Jones, Eric Kendrick, Toni Lane, Keith Lewis, Helen Lewis, Paul Lewis, Raymond Lewis, Joel Martinez, Faith McLuckie, Vanessa Monroe, Gillian Patterson, Max Poznerzon, Eileen Schofield, Sarah Swan, Nonja Tiller, Adora Tooks, Imani Turner, and visiting artist Amy Boone-McCreesh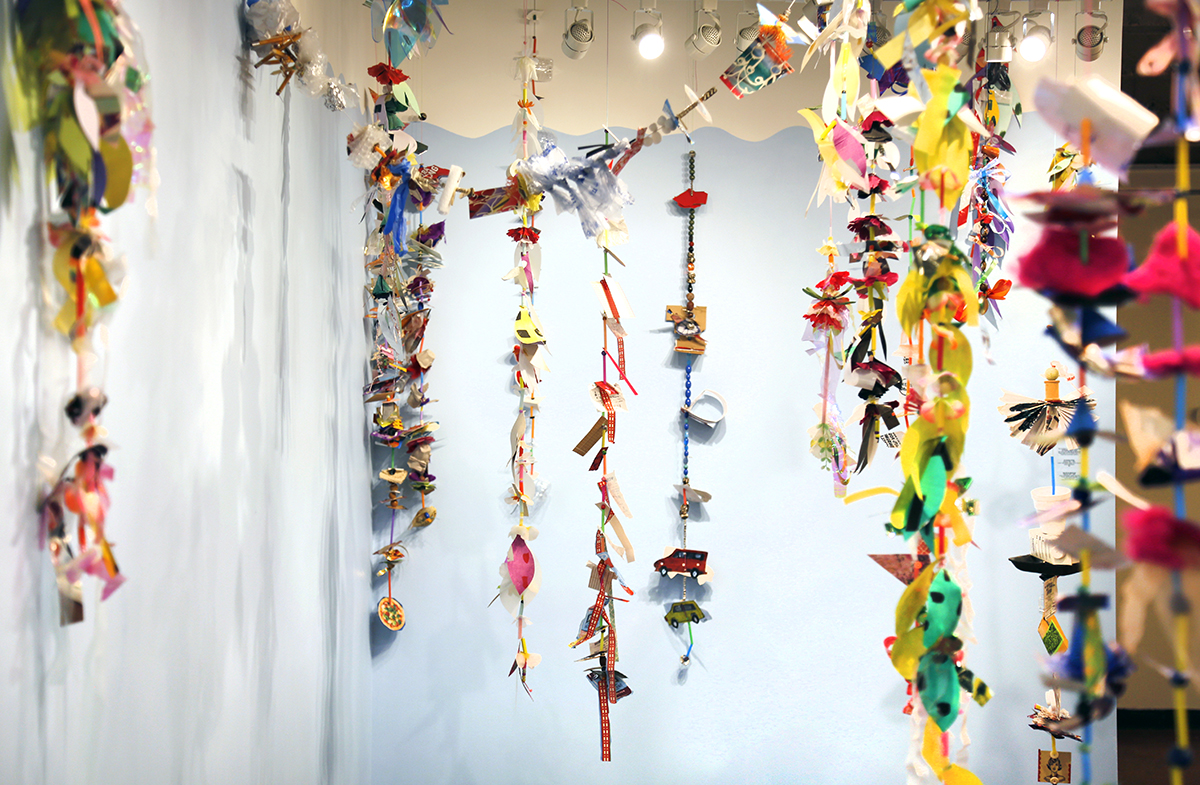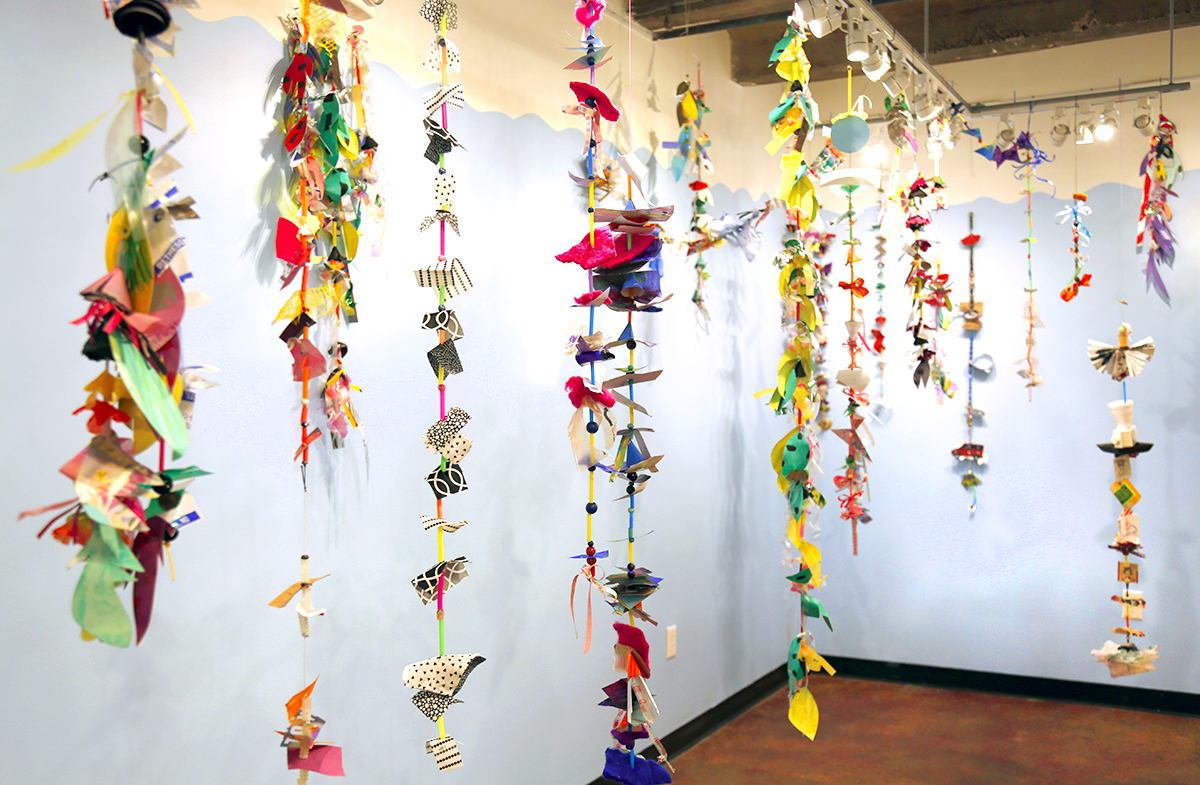 Garlands by Art Enables resident artists and visiting artist Amy Boone-McCreesh. Mixed media including paper, plastic straws, beads, plastic bags, repurposed sketches and drawings, receipts, various food and drink packaging, other found objects. Available for purchase on site - please speak to Art Enables staff to inquire. Art Enables artist garlands: $25. Amy Boone-McCreesh: long garlands: $50; short: $30. Wall painting by Amy Boone-McCreesh.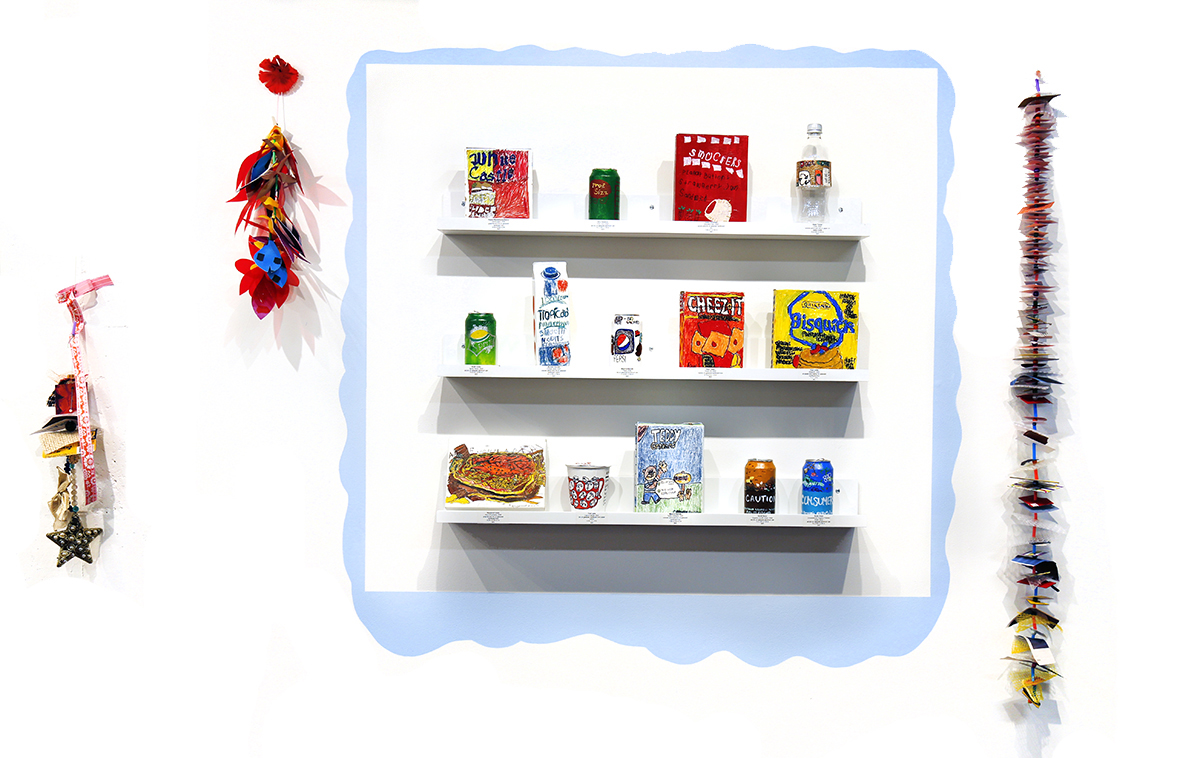 Installation view with garlands by Art Enables artists and Amy Boone-McCreesh and shelves with food packaging painted and drawn over by Art Enables artists. Click items below to see alternate sides. Wall painting by Amy Boone-McCreesh.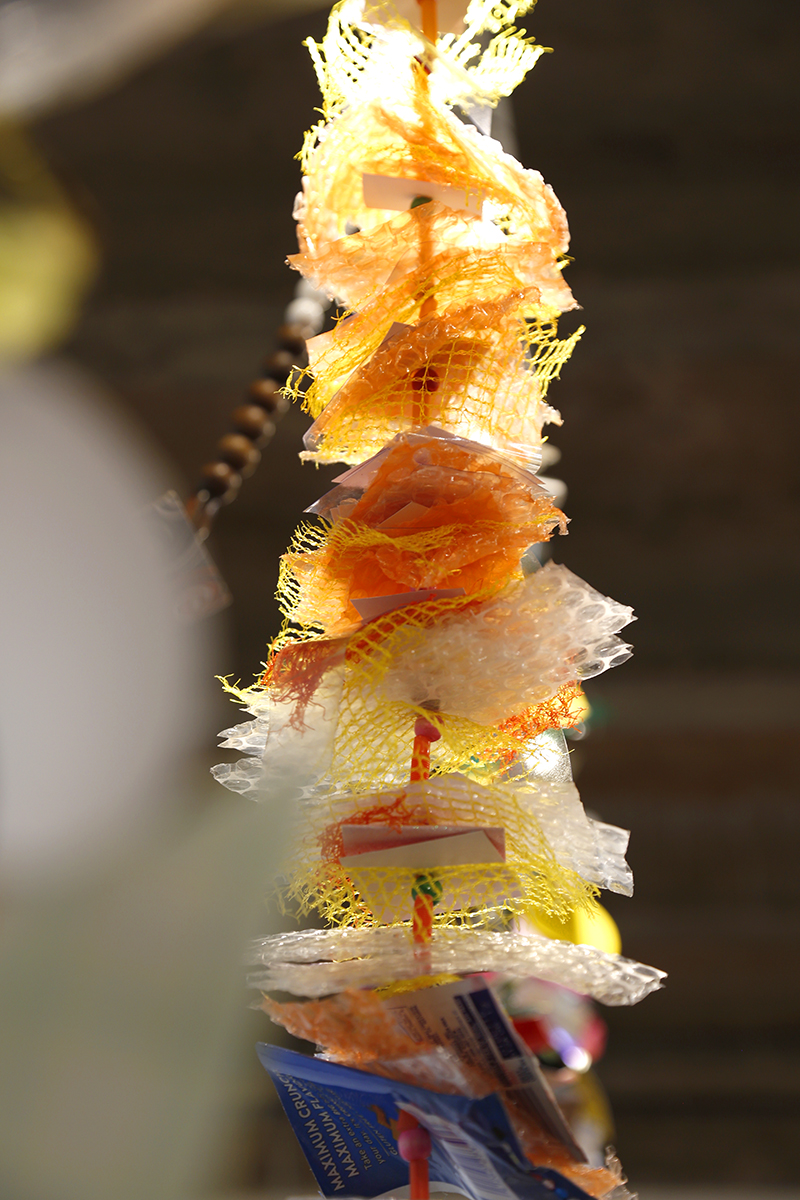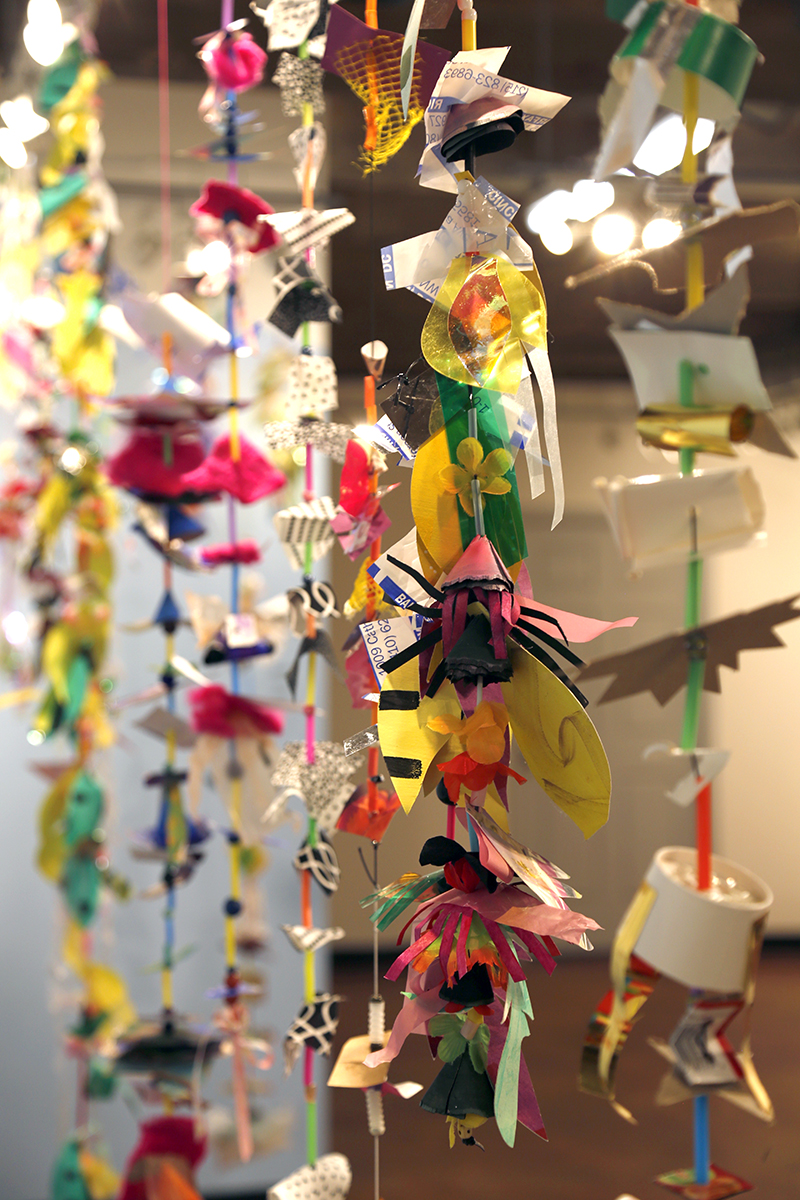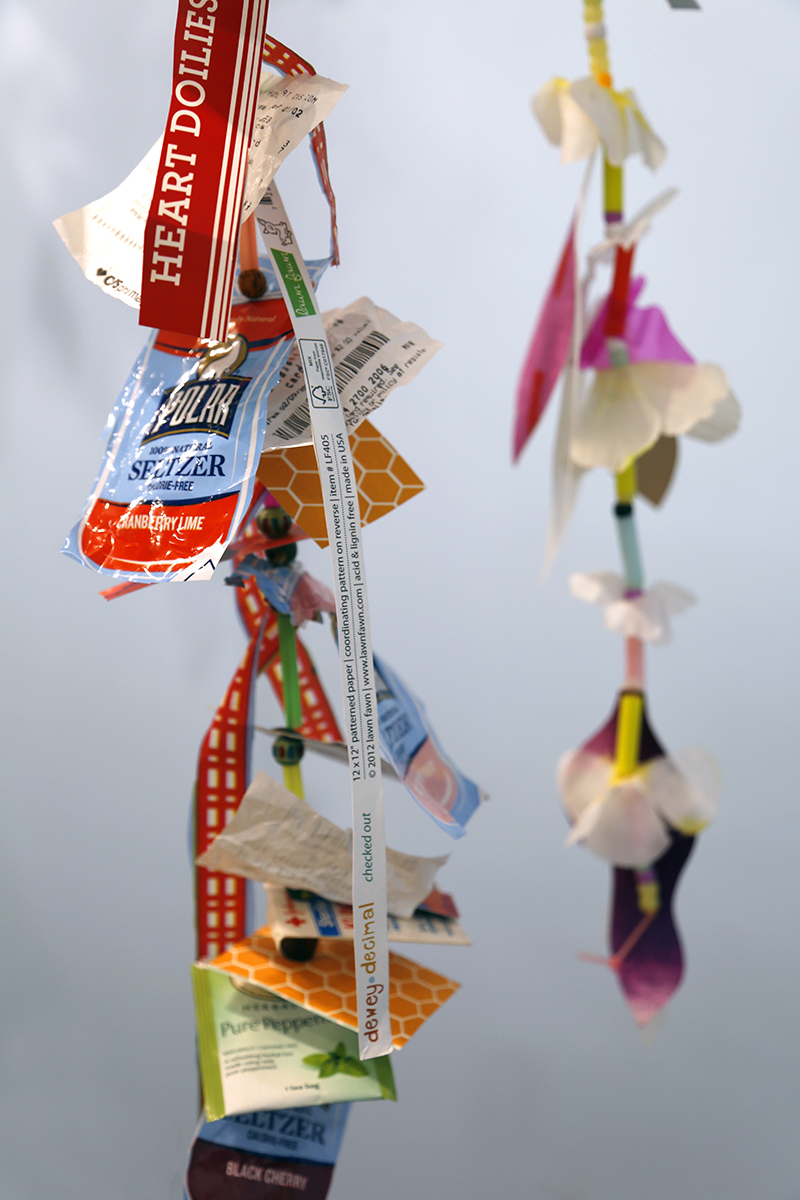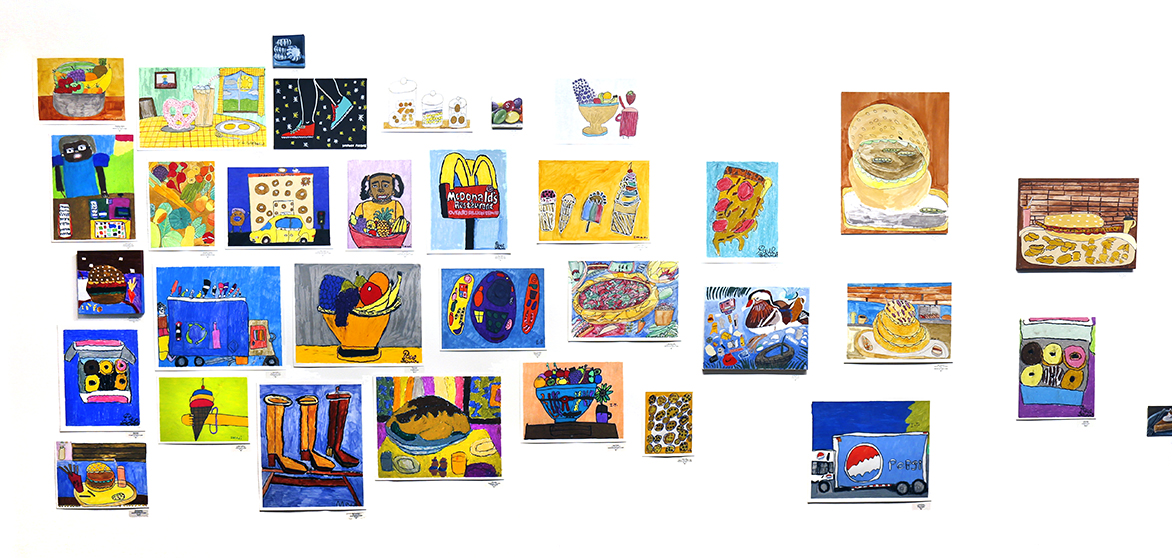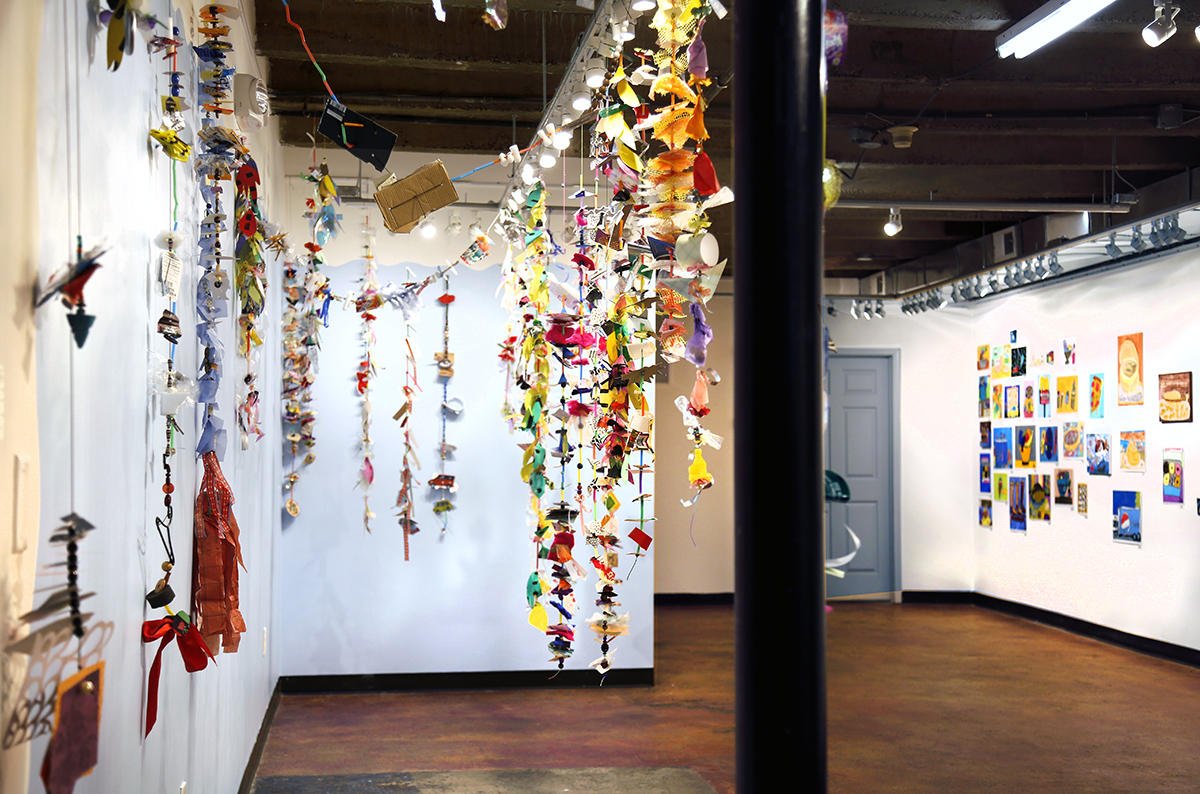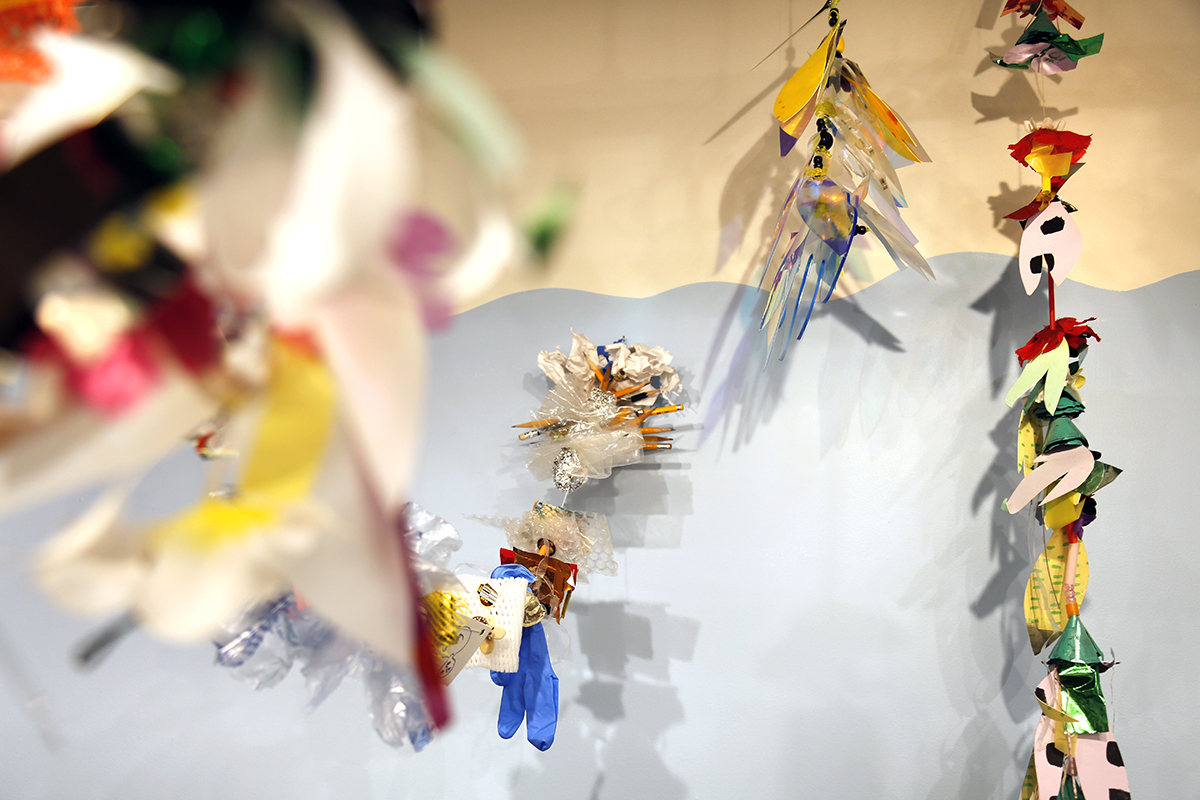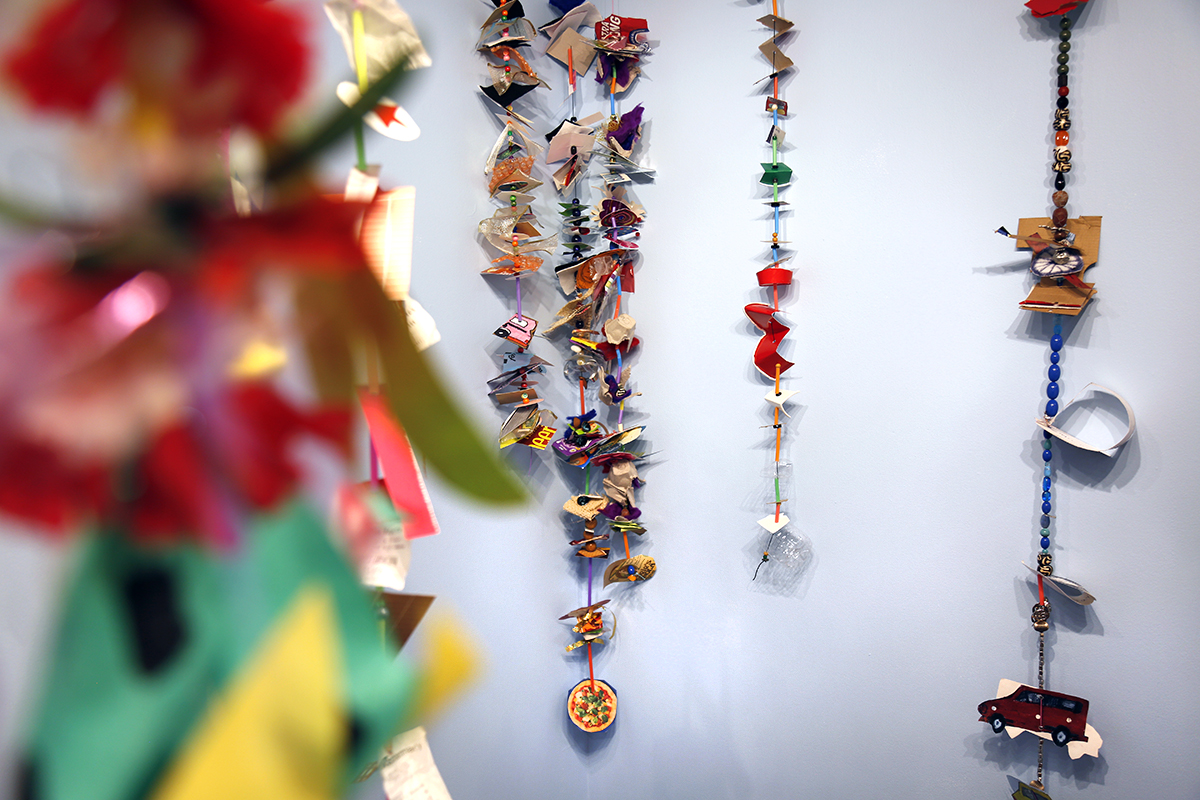 To learn more about participating Art Enables resident artists, please visit our Artists page.
Amy Boone-McCreesh is a Baltimore-based artist with an interest in the connections between aesthetic leanings and economic and cultural status. She completed a two-year fellowship for emerging artists with Hamiltonian Gallery in Washington D.C. (2014), where she exhibited and was included in numerous art fairs. Her work has also been included in exhibitions across the country. Recent collections include the Department of State in the U.S. Consulate in Monterrey, Mexico (Art in Embassies, 2013), Facebook (2019), and Capital One (2018). Amy is also a two-time recipient of the Maryland State Arts Council individual artist award for works on paper. In addition to her own studio practice, Amy has a committed relationship to education and visual arts as well as curating and running INERTIA, a website dedicated to studio visits and providing a voice for artists to create context for their work outside of critical dialogue. Amy is currently adjunct faculty at Maryland Institute College of Art.